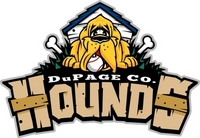 Whiting, Ind. – August 16, 2020 – The DuPage County Hounds (21-12, 1-1) dropped Game 2 of the Midwest Collegiate League Championship series and were defeated by the Northwest Indiana Oilmen (24-11, 1-1), 6-1, at Oil City Stadium in Whiting, Indiana.
DuPage County may have been too relaxed heading into Game 2 of the Championship Series as their offense had no answer for Oilmen starter Mike Madura. They were held to one run on only three hits and struck out 9 times. The Hounds bats were quiet on Sunday night against the Oilmen pitching staff just a day after scoring 8 runs against them with 11 hits.
"Energy was a little bit overzealous so to say and coming into here thinking that we can just finish this in a two game series, that's not how it works." Hounds Manager Ben Caplesaid. "Especially when it comes to a Championship Series and bottom line is their pitcher Madura threw a hell of a game. He had three pitches that were working for him and got us on a lot of first pitch outs and there is nothing we can do about that. We hit a couple balls hard and their defense made some plays to keep his pitch count low for him and they just flat out beat us tonight."
DuPage County starter Ryan Louck (Maryville University / Plainfield, Ill.) struggled today as he tossed three innings and allowed two earned runs with four total runs on the day to go with five hits and three walks.
"Starting off in the bullpen, my curveball wasn't working as well but I just tried to go out there and throw strikes in the zone," Louck said. "It just didn't go our way today."
"I wouldn't say he struggled today, he had a ton of borderline pitches early on that caused him to raise his pitch count," Caple said. "Other than that; the other runs he gave up weren't really on him and it was on our defense. There were plays that should have been made defensively to lower his pitch count to let him go deeper into the game and we had a bad hop at shortstop that scored a run, had a double play that we never should have tried to turn that wheeled in another run. That's just baseball and it is what it is, he hit his spots and didn't get a couple calls."
DuPage County did score one run in the bottom of the 9th inning off of a RBI infield single by Brandon Bannon (Illinois Springfield / Spring Grove, Ill.) that allowed Bryce Vincent(Concordia-Chicago / Algonquin, Ill.) to score from 3rd base.
DuPage County will be back in action tomorrow as they look to take home the Midwest Collegiate League Championship against the Northwest Indiana Oilmen at Oil City Stadium in Whiting, Indiana starting at 7:10 P.M. on the Oilmen Broadcast Network, fans can watch the game via Facebook Live.