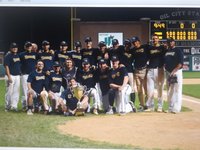 Whiting, Ind. – August 17, 2020 – The DuPage County Hounds (21-12, 2-1) have won Game 3 of the Midwest Collegiate League Championship series and defeated the Northwest Indiana Oilmen (24-11, 1-2), 5-3, at Oil City Stadium in Whiting, Indiana to win their second MCL Championship title.
DuPage County Hounds have just secured their second MCL Championship trophy and the first one with Ben Caple as manager of the team.
"It feels great winning my first title and I couldn't have done it without the boys I had on my squad this season," Hounds Manager Ben Caple said. "They came out hungry and deserve all of the credit and I was just so blessed to have such a good squad this year. "
DuPage County starter Jordan Smevoll (Webster University / Dyer, Ind.) was lights out yet again tonight and has plenty of experience pitching in big time games. He threw seven innings giving up two earned runs, four hits and struck out six on the day to help the Hounds secure the win Monday night. The Oilmen offense struggled against the Hounds' pitching today as they only recorded two earned runs and five hits against DuPage County's pitching staff.
"Second inning and beyond is where I really settled in and forced their hitters into ground balls to make it easy on my defense," Smevoll said. "We literally had a lefty second baseman out there in the MCL Championship so that was pretty awesome and I just pounded the zone all night long. I'm pitching for guys to put the ball in play and I know my defense. I trust the defense behind me and they get the job done and that's why we won tonight."
"The kid just has such a gutsy mindset, he comes out there and it doesn't matter if you're up ten runs or down ten runs in the championship game," Caple said. "He comes out with that same demeanor, ready to compete and I can't express how much of a gutsy performance he had out there tonight."
DuPage County scored five runs right away in the top of the 1st inning to really set the tone early. The Hounds offense started off strong due to consistent hitting at the plate and having a bases clearing double by outfielder Bryce Burton (Missouri St. Louis / Sugar Grove, Ill.) off opposing pitcher Tommy Windt.
DuPage County starting Shortstop Matt Bottcher (University of Illinois-Chicago / Romeoville, Ill.) was named MVP of the MCL Championship Series and had a huge impact offensively all series. Bottcher set the tone early tonight; starting off the game with a first pitch single which helped the Hounds offense score five runs in the top of the 1st inning. He finished the day going 4-5 with four singles and a run scored to help DuPage County secure the title win over the Oilmen.
"I was just trying to come out and play some baseball, I was unfortunately working a lot this summer and didn't get to play in a lot of games, Bottcher said. "I was just coming out and trying to compete and win a ball game for these boys and win a championship."
The Hounds pitching staff shutdown the Oilmen lineup after giving up three runs in the 1st inning. Alex Luka (Babson College / Downers Grove, Ill.) entered the game in the 8th inning after starter Jordan Smevoll reached his 100 pitch limit. Luka locked down the Oilmen lineup in the final 2 innings and struck out Clay Thompson to end the game to win the MCL Championship.
"I was just trying to get in there and get outs; plain and simple and not try to do too much out there and eliminate the walks and base runners, Luka said. "I just let the defense behind me do the work and that is exactly what they did. We knew we were going to come back out with some fire in us and we couldn't have had a better ending to the season."
Heading into tonight's game 3 matchup between the Oilmen and Hounds, both teams have played each other tough all season long. The Oilmen won four of the seven regular season games against the Hounds. The two teams have been rivals for years and this time, the DuPage County Hounds came out on top and won the MCL Championship for the second time in eight years.
"It's hard to put into words and it's pretty surreal, this is my second year with the Hounds and I was here two years ago but ended up having Tommy John Surgery a year in between, Luka said. "It's just really cool coming back and having a part in this championship and I'm just very thankful for this opportunity."
"Beating the Oilmen was huge, I've been around this league here and there since I was a probably a senior in high school and this is one team I hate playing, Bottcher said. "This is my first championship win and taking it away from them was awesome. I'm definitely not a fan of them, that's for sure.
"Tonight was great without a doubt and we've been striving for this championship for a long time, Caple said. "Normally when we have headed into the playoffs the last five to seven seasons, our team gets depleted. It's nice to finally be on the same playing ground as everyone else and it was nice to take Don's trophy away from him at Oil City Stadium."